There is no manual for setting up a sixteenth-century brewhouse. Among surviving documents, wills and lists of goods often list brewing equipment, but rarely give specifics; little contemporary equipment is known to survive and what does is degraded or fragmentary; images from the time are typically formulaic. But from piecing together the remaining evidence, it seems the basic set-up was fairly standard in England, Ireland and much of northern Europe. As the industry expanded, brewing was carried out at a larger scale, but the process and necessary tools remained fairly stable until the late seventeenth century. Through deep research and with the help of numerous craftspeople, FoodCult's historical brewer Marc Meltonville was able to identify, commission, and bring together all the tools likely used to make beer in the 1570s.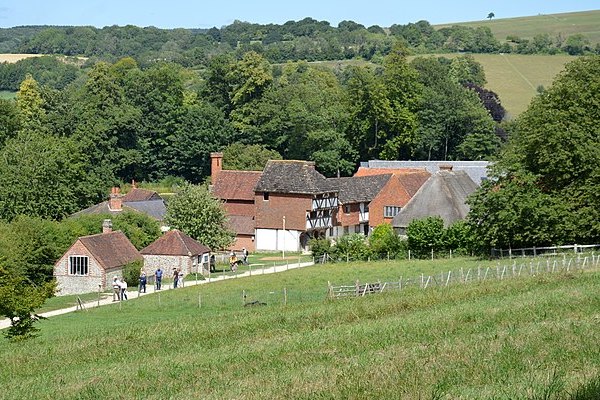 The project was hosted by the Weald and Downland Living Museum in West Sussex, UK, a site that preserves and explains historical crafts and maintains a collection of buildings from previous centuries. For almost two weeks, the museum let FoodCult borrow their Tudor farmhouse kitchen and convert it into a brewhouse (see right). With an open fire and unglazed windows, the kitchen offered conditions much like those that past brewers experienced.
These are the main pieces of equipment used to brew the beer, sourced from crafters and manufacturers using traditional methods. For a closer look and more information, click on the images below.
Re-creating the brewery relied on the experience and skills of craftspeople in the UK and further afield. Because these materials and technology are no longer used commercially, all of the equipment was made by hand specifically for the project.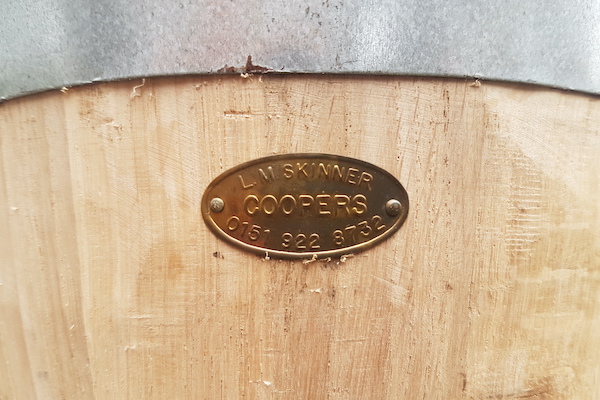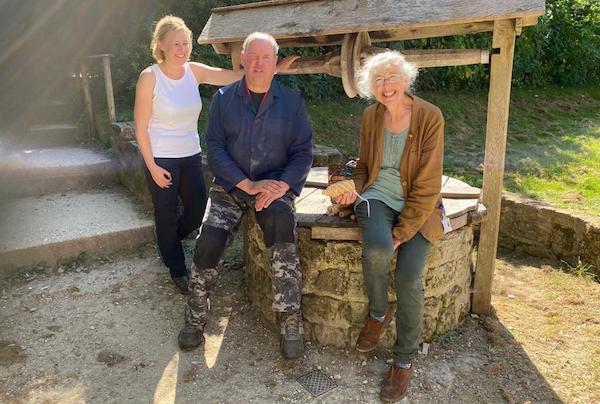 The mash tun, buck, and fermenting barrels were made by Les Skinner, one of England's last remaining coopers. The copper boiler was made in Portugal by Iberian Coppers LDA. Linda Mills (pictured left, with FoodCult's Susan Flavin and Marc Meltonville) was made by wicker weaver Linda Mills. Other essential pieces of equipment were made by historical metalworker Adrian Warrell and woodworker Robert Hoare.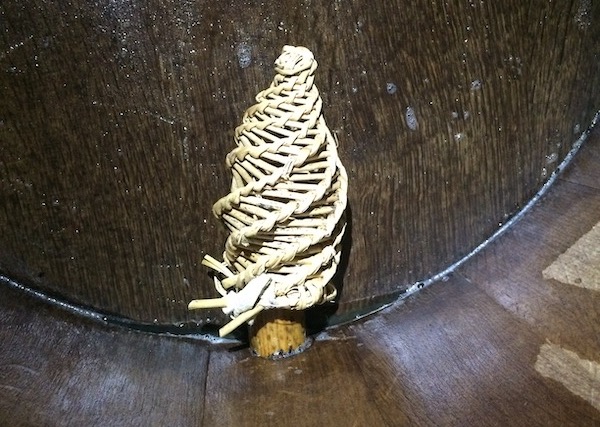 For the smallest pieces, few descriptions or images have come down to us. The form of the wilch was inspired by examples in English rural life museums, and the weaving technique was influenced by a flask cover found on the Mary Rose, a Tudor warship that sank in 1545. Robert Hoare also made an hourglass based on a design from the wreck, which we used to help time the stages of the brew.